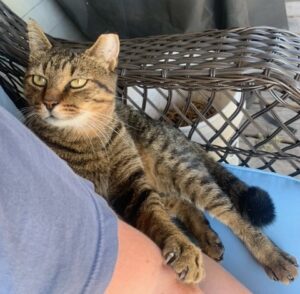 I was just out on my porch and our feral cat, turned full time lap cat, jumped up to hang out with me for a few minutes. So I thought I'd send an update.
We originally thought he, named Trespasser, was a "she" back in April before I trapped him and had him neutered with CARE. Once I made it back home after the surgery, I let him out of the trap and didn't see him for three days. When he came back, I fed him and apologized for the ear and testicle clip – Ha Ha! He hasn't left, although he has taken his sweet time warming up to us. My husband and I have made it a competition to see who he would "love" first. It's only been a couple weeks since he started jumping up in our laps, but he's here to stay. He's still cautious of new people but he's a human lover now, and quickly shows jealousy with our other two outdoor cats (O'Malley and Luci, also spayed/neutered by CARE).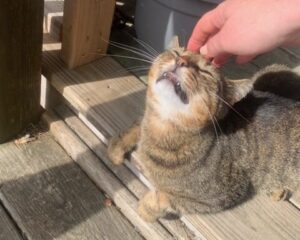 Here's a couple pictures of him, he's a sweet boy that cheeses when he gets head rubs, and we're working with his claw use because he still doesn't realize they hurt. We are also trying to warm him up to coming inside, as we would like to give him the option (if he'll have it) this winter when it gets really cold.
We are a happy and full home (mouse free in a 1900 built house to boot!) because of CARE. Many, many thanks to y'all.